Opening our doors once again!
Firstly, we want to give a big Primark "thank you" to all of our employees for their incredible efforts supporting frontline workers throughout this difficult time.We're so proud of everyone pulling together and demonstrating true Primark spirit. Now that our stores are reopening across the world, our in-store colleagues are collaborating in a slightly different way to ensure everyone's safety. We've introduced a number of measures and here's a snapshot of what to expect on your next visit and what this means for our people.
The Primark priority: colleague and customer safety
We are closely following all government safety advice across every country we operate in. Rigorous health and safety measures are in place in all stores, including a strict social distancing protocol. Here's some of the other measures we've introduced:
Increased personal protection: face masks and gloves are available to all employees if they wish to use them.
Hand sanitiser on entry for customers: this keeps our stores cleaner and reduces the risk posed to our colleagues.
Perspex screens have been installed on open tills to protect customers and employees: this minimises contact with both customers and fellow team members.
We have temporarily closed off fitting rooms, customer toilets and our cafe and beauty concessions in stores which have them.
Limited number of customers in-store: we are following government guidelines and limiting the number of customers allowed in-store at any one time to allow for the appropriate distance in between customers and employees.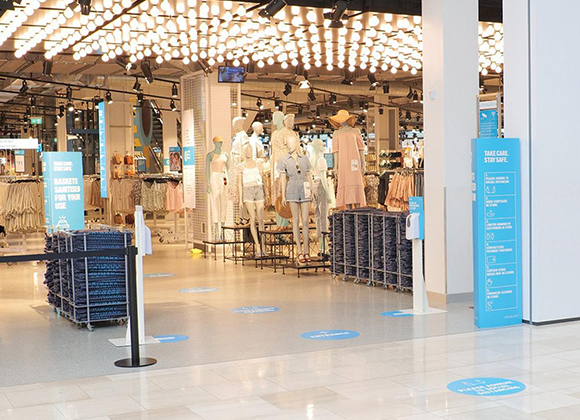 We are one
We're absolutely thrilled we'll see you again in person! It will take a joint effort as we all have a part to play in keeping safe and well. When you next visit us, please follow all the social distancing guidance and safety measures provided in our stores. And in return, our colleagues will help make that as easy as possible. We will continue to monitor events and keep up to date with government advice.
And for those who are applying for our vacancies, rest assured we've got the relevant practices in place to make sure we can all adhere to social distancing, whether you need to come into store or an office for an interview or we conduct it online via video. Together we will take care and stay safe!
We will continuously monitor our re-openings and our health and safety policies to ensure we are doing the best we can to help protect our people and customers. - CEO Paul Marchant


Browse our current vacancies and to stay up-to-date with all the latest opportunities, click below.
Learn more