Get ready to be amazed
Primark has come a long, long way since we opened back in 1969 under the Penneys name in Dublin. Today, we operate in more than 330 stores in 16 countries across Europe and America. But that doesn't tell the whole story of Primark. Here we give you some staggering facts of who we are today. And we hope that this inspires you to join us.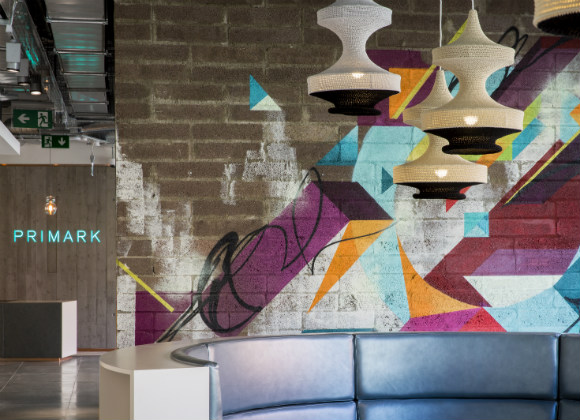 Bigger and better
Than any other destination clothing retailer, with the biggest share of our market in the UK, Ireland, Spain and Portugal. And how do we stand out from the crowd? By offering amazing fashion at amazing prices. Across our network of stores we have 13 million sq. ft. of selling space. In 2015/16, we opened 22 stores and created 7,830 new jobs. And we're introducing new Wi-Fi in all our new stores.
You'll also be part of an ethically and environmentally responsible business. We've been ranked as 'Leader' by the Ethical Trading Initiative since 2011 and have been praised by the UK Government's Environmental Audit Committee for our sustainability efforts. As well as donating all of our unsold merchandise to charity, we're committed to reducing our environmental impact by eliminating certain chemicals from our supply chain, supporting Greenpeace's Detox campaign and improving sustainability. 95% of our stores have a building management system ensuring energy efficiency. In 2015/16 we recycled over 9,000 tonnes of hangers, 3,000 tonnes of plastic and 45,000 tonnes of cardboard. And all our brown bags are made from recycled waste card and paper. We're also a good neighbour, contributing to communities where we trade and supporting local education on collaborative projects and internships.
Keeping up with demand
Our fashions fly off the shelves and rails. So we need to get products from suppliers to stores in double quick time. We buy in volume from over 700 suppliers in 37 countries. Since 2013, we have doubled our warehouse capacity and currently operate from eight distribution centres. Our most recent centre opened in summer 2016 in Islip, Northamptonshire, UK and has to be seen to be believed. The site has 1.1 million sq. ft. of space – the equivalent of 17 football pitches. It has 13 miles of aisles. And it's a 24/7 operation powered by over 250 committed colleagues. Actually, you can see it below:
Since 2013, we have doubled our warehouse capacity and currently operate from eight distribution centres.
People make Primark
Primark is driven by over 70,000 passionate, enthusiastic and dedicated people like you, each playing their part in meeting our customers' expectations. More customers and more new stores mean new opportunities. We believe in providing a positive and welcoming experience during the recruitment process. And if you want a career rather than a job, only your energy and hard work will hold you back. Many of our managers were promoted internally. Our business also directly contributes to the employment of over 700,000 workers across four continents and we estimate that 2.4 million people are supported indirectly.
A family business
When we opened our first store back in 1969, three members of the Sullivan family were among our first recruits. Incredibly, fast forward to 2017 and four members of the same family are on our payroll! But that's us – we're an extended family for so many people. Just ask Glen, one of our Retail Assistants in London. When he got married, the whole store threw a party. The fact is, our people get on and become friends, no doubt helped by social teams that organise everything from football matches to nights out.
Recently viewed jobs
No recently viewed jobs found.